Police Law Enforcement Training Program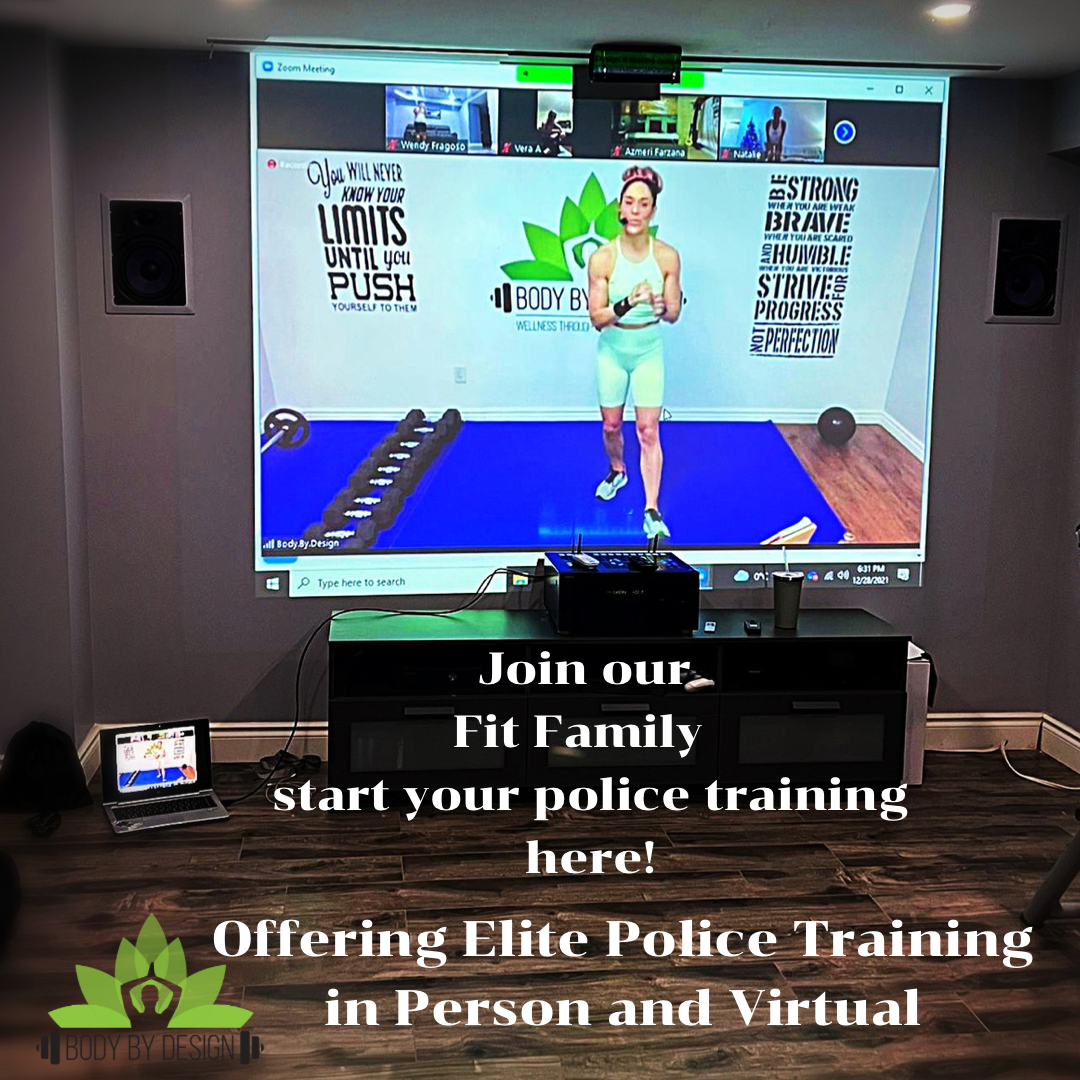 Welcome to Body.By.Design Virtual Elite Police Training Program. In this program it is designed to hit your target with a hybrid training style that keeps you organized and working towards your goal.
You will have access and be assigned modules to help develop skills that are required to pass your FITCO, BEEP SHUTTLE RUN, PIN-TEST. In order to be ready for your test date, you must be in physical standing with Strength, Endurance, Core strength & Stamina.
In the Elite Training Module Program you will be assigned your daily training session and your conditioning routine. It will also include a running schedule to help you get to 5km in 30 min.
Our arrangements of exercises are formulated to help build lean muscle tissue. This will help build speed and agility to execute the course successfully. You will also have access to all the equipment and be set up for test time to practice with Police Test Ontario.
Our Elite Police Training Program also has access to nutrition and supplementation to help you with recovery and performance. Lastly, we also have contacts with recruiters to help with your next step in your career.
Our facility provides instructors with experience in physical prep test FITCO, BEEP TEST, PINTEST. We provide all equipment for every component in the test. You will receive the best in training to develop strength, endurance and stamina to hit your target.
You will have the opportunity to train hands on with Elite state of the art police testing equipment. Learn to use the push/pull body control simulation station. Your physical training will prepare you for:
20 meter Victim Drag
Emergency Response circuit
Body Control Simulator
Arm Resistance Simulator
Shuttle Run Practice
4 Ft wall climb
6.5 Ft wall look over
In this program we will evaluate your level of fitness to properly place you in the appropriate program.
Aerobic Shuttle Run
This component will be evaluated by running back and forth between two marked lines over a 20-metre course in time with audio signals recorded on a CD. Each leg of the Shuttle Run must be reached before the audio signals sounds and the time to cover the 20-metre course is shortened progressively requiring a quickened pace with each leg of the run. This test ends when you miss two consecutive warnings or when the standard of Stage 7 is met
Pursuit/Restraint Circuit
The circuit is made up of four 25 meter rotations. In the pursuit phase of the test, you will run four laps around a 25 metre (82 ft) circuit as quickly as possible for a total distance of 100 metres (328 ft), while wearing a 4kg (9 lb) soft weight belt around your waist and a 4kg (9 lb) vest to simulate the weight of standard police equipment. During the first and third rotations you will pull yourself up to look over a 1.9 metre (6.5 ft) fence with a toe hold, climb up and down a set of stairs, drop to the floor and crawl under a barrier of 61 cm (24 in). During the second and fourth rotations of the circuit; you will scale a 1.2 metre (4 ft) fence (with no toe-holds), climb up and down a set of stairs and then drop to the floor and crawl under a barrier of 61 cm (24 in), then go first to the Body Control Simulator and then to the Arm Restraint Simulator. Lastly, you will grasp a 77 kg (170 lb) mannequin by the handle behind the neck, and drag the mannequin a distance of 15 metres (50 ft) over a resistive mat and around pylons. The Pursuit/Restraint Circuit is scored as the total time from the start of the 100 metre (328 ft) circuit to the completion of the victim drag.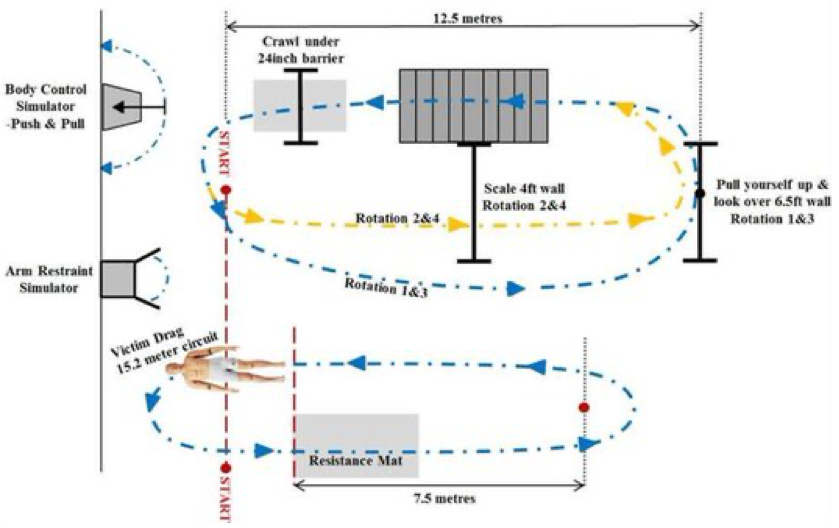 For successful completion of the Pursuit/Restraint Circuit the time taken must be 157 seconds or less.